I am linking this post to Vintage Thingie Thursday. Click on the icon below to see many beautiful vintage items!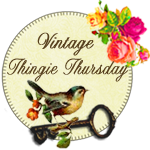 Mom gave me a box of sewing supplies that belonged to my grandma (paternal grandmother for those family members who read here).
I don't remember Grandma ever helping me with my spelling homework. ;)
Fun! Like Christmas!
Grandma sure stocked up here. Multiples of lots of stuff and a ton of hem facing and bias tape. And school pictures of my sons -- Grandma knew who was meant to get this box.
I plan to make up a fun package of some of these treasures for a giveaway in the near future. 'Twill be for my followers only (love you guys!) so if you read my blog and are not a follower you might want to sign up in anticipation of this exciting giveaway.
I know the package will include a tatting shuttle since there are two here, never used in original packaging, and chances are pretty slim that I will ever use even one of them.
A handy "rolling seamer" to add 1/4" to your templates. Why would you not just cut the template at the size you want it? including the 1/4" seam allowance?
Oh, and in a box full of sewing supplies we find a product that brags "no more sewing!" They actually do look handy to have in a pinch. Tiny pins that hold on your button until you can get home to sew it on properly.
What are these? (below) They are wooden, with two holes in each and the black thing looks like some kind of shuttle. I know my Grandma did weaving so these might be her weaving supplies.
In other domestic news, I put a whole chicken on to boil and it is smelling yummy in our cozy house on this blustery day. Recipe found here:
Boiled Chicken at allrecipes.com